Welcome to Lizarus'
Home Page
The Life of a
True Giant Green Iguana
It is with deep regret & a heavy heart to tell you that my lovely Zar
passed away in a house fire on February 22, 2000. I tried to
get to him through the basement stairs but the flames were
too big.
It's taken me over a year to even write this update & the pain
of his loss is so very strong & heavy in my heart. There will
NEVER be another Lizarus. I will never forget you my friend.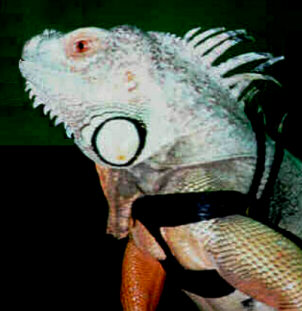 Hi, my name is Lizarus.
My friends call me Zar & my mom calls me her Handsome man. I have
a really good life & am a very lucky iguana. I have a huge
home which my mom designed for me & I have a lot of light & heat.
I can bask in 95 degree temperature or I can relax down to where
the temperature is about 75 or 80 degrees. I eat only the best Iguana
Den Diet & I get a lot of strange colored items that everyone calls
Veggies. I like beets, mustard greens, bananas, kiwi, green beans,
& shaved carrots. It is very important that I get a variation
of colored Veggies because I am attracted to color.
If you were green & all your food was green, you'd be bored too.
I like my house because I have indoor/outdoor carpet that gets
replaced a lot cause I don't like to step in my own poop.
I have real tree branches in my home...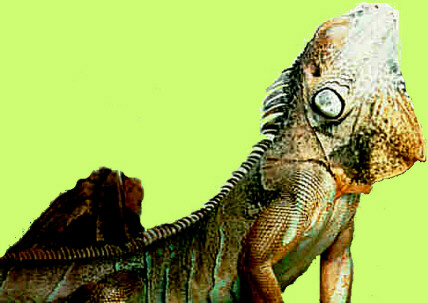 & a flat pedestal where I can really 'chill out under the light or
sleep comfortably at night. I don't have to worry about
that wire mesh stuff that some of friends have in their houses,
cause my house has a wood frame & glass front enclosure.
I guess my mom doesn't want me to break a nail.
The temperature of my pad is consistent & very comfortable.
My schedule is pretty much like yours. I have 12 hours of daytime
& 12 hours of nighttime. I love my lighting because it makes me
feel good & I can digest my food properly. Mom
complains because my bulbs cost a lot but oh
well, she knows I'm well worth it. She says that iguana expense, time
and care are just some of the things that every prospective Ig owner
should consider before buying an iguana like me.
Thank you mom for doing all the research you could about
me because if I had a mom that didn't read
up about me, I would not be here today.
I have some buddies that like to swat their tail & bite but I prefer the
calm, collected, & cool approach. I would rather kiss & be loved cause
then, if I am a good boy, I get to go places like the State Fair
& to the neighbors & the Renaissance Festival.
My life is great. I only wish my folks would do something
about those annoying long- eared baggy-skinned creatures
that keep staring at me through the glass, & that white calico colored
furry thing (Tickles the Cat) that creeps & crawls around me,
can definitely take a hike. But other than that, I couldn't have it any better.